We are so Proud to show off our Champions!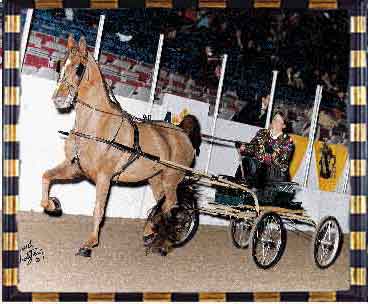 Tell A Secret
Tell-A-Secret
Telemark
Star Heart Victory
Victory Ace
High Point Flame
Ace's lil lady
Ace O'Goshen
Lady Purnell
Flight's Angel
Flight Director
CH Wing Commander
Clear the Entrance
Angel's Ransom
Clarma
Lovely Fancy
Get -

Hallelujah Glorify the Lord

Tigers Lil Secret

Pinto World Champion

Soul Winner

Pinto World Champion

---

Colortown's Royal Knight of Armour

---
$4500.00
Tel A Secret is a very dark liver chestnut 15.2 mare. She is 3 gaited and a fine harness mare. She has raised several foals to date. Two of her foals have gone onto the Pinto World Show in Tulsa and have attained their World Champion Titles. She is very conformationally correct, a very nice mare. Very spirited and snorty. Animated trot with nice tippy ears. This is a very beautiful mare that would make a great brood mare of more Pinto World and ASHA champions.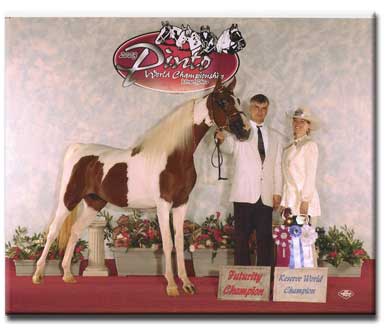 Tigers Lil Secret

2001 Pinto World Champion Halter Mare, 2 years and under

2002 Pinto Reserve World Champion
2003 Pinto World Futurity Champion
Tiger's Lil Secret
Tiger Woods
Chubasco
Fountain of Youth
Tropical Gale
Night Dancer
CH Night Prowler
Miss Mary's Fortune
Tell a Secret
Telemark
Starheart Victory
Ace's Little Lady
Flight's Angel
Flight Director
Angel's Ransom
Get-

All American Peace Keeper

---

The Lord's Blessed Star of Wonder

2005 Weanling Colt eligible for the State Fair of Texas Futurity

Sired by Norkse Star of Fame:.2001 Pinto World Champion, Champion of Champions
$35,000
Cash or Terms
Tigers Lil Secret is an exceptional double registered 6 year old mare. Miss Lilly has a very animated trot. She has developed into a fine 5 gaited mare. She is also a fine harness mare as her dam, Tell A Secret. Miss Lilly is a one of a kind mare. She is as sweet as the day is long. She will be shown at Pinto World 2006 in riding and driving. Please come out and cheer us on!

Visit Her Movie and Photo Album Page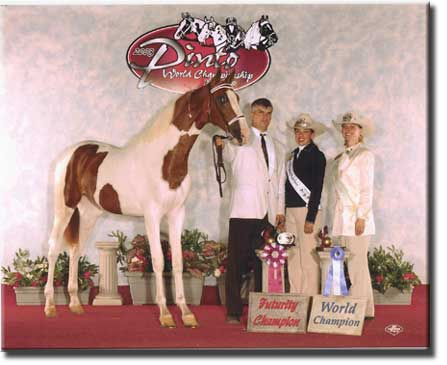 Graced By His Glory
2003 Pinto World Champion
2003 Pinto World Futurity Champion

Miss Grace is a gorgeous chestnut and white filly with 2 bright big blue eyes.
She has an angels disposition. She was born on Palm Sunday. One of our first truly visable miracles on our farm!
Miss Grace is very tall. At 3 years of age , Miss Grace is 16.3 hands and should reach her full growth potential of 17.2 hands! Her sire Norsk's Star of Fame is 17.3 hands. He is the 2001 Pinto World Champion and Champion of Champions. Her sire has won numerous awards and is the 2nd in dressage in the State of Kansas. He is owned by Marilyn Taylor. Grace has a lot of potential. She is an accomplished 3 gaited and pleasure driving mare. She has been ridden on trails. She is proficient both in and out of the show arena. She has a very level head. She is not easily excited. She is overwhelming agreeable to any circumstance she is faced with.

She will be sold with an open breeding to any of my stallions.
Miss Grace has won 3 Pinto World Champion titles as a yearling. She also won The Open Yearling division at State Fair of Texas!
Grace won the 2006 Grand Champion Mare at the first Pinto Congress in Tulsa this year!!!!
Grace has a wonderful disposition. She is also an accomplished 3 gaited and a pleasure driving mare.
She is a one of a kind filly. She will do anything you want her to do... and Love doing it with you!
If you ever get the opportunity to let her lood down at you with her big blue beautiful eyes, she will take your heart away... She is every bit... Graced by His Glory!
Thank you Jesus!
Graced By His Glory
Norsk's Star of Fame
The Color of Fame
Colour Me Hot
Baroness' Reverie
Torch's Star Status
Status Symbol
Blue Torch
Strikes Popcorn
Knolland Strike Up The Band
Key Largo
Commander's Cheerleader
Constant Stonewall
Intense Stonewall
Starlight Of Wingo
$45,500.00

Click Here to View her Detail and Movie page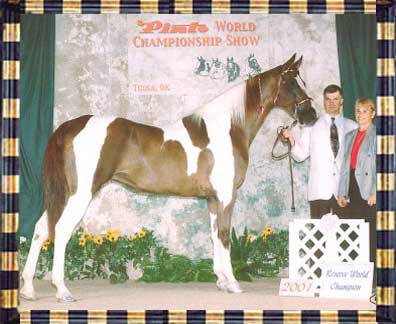 Winter White Chocolate


2001 Pinto World Reserve Champion Halter Mare
2001 Pinto World Champion 5-Gaited Horse
2001 Pinto World 4th place Tobiano Color Class
Recipient of the 2001 Pinto World Champion Horse of the Year!


Winter White Chocolate
Boola Boola
CH Gallant Guy of Goshen
Beau Gallant
Gilded Gal O'Goshen
Lady Trigg
CH Wing Commander
Carol Trigg
Travel
Fizz Bomb
The Bounty Hunter
My Royal Gold
The Commander's Love
CH The Contract's Commander
Stormy Contract
Miss Zima, as we so fondly call her, gave her all at 14 years of age and amazed us all with her multiple wins at the 2001 Pinto World Show with 3 world titles and an Outstanding Horse of the Year Award!
Miss Zima was raised by a wonderful lady in Missouri. I was at the American Royal in 2000 at the Stallion Futurity Auction. I had bid an won the breeding to Norsk's Star of Fame. I Said, "Lord, I need a mare to breed to him"!... It was that quick, my prayer was answered. Nancy came up to me and whispered to me, " I noticed you were bidding on spotted stallions... I have a Pinto mare for sale!" I fell in love with her from first site. The Lord has shown us such wonderful miracles through this mare. Anointed was the first, followed by Ring of Faith. The Lord is so good!
Winter White Chocolate is not for sale at any price. She is a proven winner. Not only in the show arena and out on the trails but with bringing our Mission of Saving Souls for Christ to Light!
She is an awsome mare. We are so proud of her. My deepest thanks go out to Nancy Wilson for trusting me, and selling this mare to me in 2000.
| | |
| --- | --- |
| Coming Soon | Photo Album |
---
Legacy's Beauty

HHP Aire Command x Snow's Last Legacy)
June 19 2001 15H Black and White Pinto Saddlebred Filly
Legacy is a beautiful mare. She has proven herself on the trails and is ready for the show arena. She is trained both English and western. She would make a wonderful Western. Pleasure mare. Legacy is only 4 years old. She has been ridden by young children and is very accomplished. This is truly a beautiful mare. She will go anywhere and will do anything you ask of her. She is not flighty. She is tried and true. She is in foal to Majestic Miracle for a 2006 foal. This is her first foal. This foal is now for sale for 5,000.00. It will be black and white and possibly homozygous!. We guarantee spots and a live birth.
If you are looking for a fine mare for your family, come and look at Miss Legacy. You will be glad that you did. There is really no price too much for a proven Childs horse and one that is young enough to ride for a lifetime!
ASHA # 136416

Legacy's Beauty
HHP Aire Command
Air Command
CH Wing Commander
Mystic Aire
Palmer's Easter Rose
Stonehedge Blazing Wing
Poor Pitiful Pearl
Snow's Last Legacy
Carnival's Crystal Snow
Winter Carnival
Wing's April Wine
Briarwood's First Lady of Symbolic
Symbolic
Bryndale's Letitia Denmark

$12,500.00
Check back for Pictures and Movies
Page two of Show & Breeding Champions.

Circle C Farm
5165 Veal Station Road
Weatherford, TX.
76085
Phone: 817
706-6063
Fax: 817 677-5818
Email: Sharyn@CircleCSaddlebreds.com
Our Horses are bred, raised and shown "All for The GLORY Of The LORD"
All proceeds from their breeding will be used to further HIS WORD.
Thank You for your consideration and May God richly Bless Your Life.

Jesus said, "Thou shalt Love thy God with all thy heart, and with all
thy soul, and with all thy mind. This is the first and great commandment"
Matthew 22:37-38

Copyright © 2001-2006 Circle C Saddlebreds All Rights Reserved