Night Echo
Night Echo
Paint The Night
Flashy Bourbon Peavine
Rex Hallmark
Calico Maiden
Mountjoy's Delight
Mountjoy's Denmark Jewel
Mountjoy's Peach
Echo's Claret
Johnny Three
Indiana Peavine
Kathryn Manion
Echo's Echo's Echo
Wingo McDare
Echo's Echo
This mare is from the old blood lines. She is 26 years young and still producing fine foals. We have 3 of hers at our farm that are for sale: 4 year old, The Lord's Treasure a homozygous bay and white mare by Alcatraz Island , 2 year old The Lord's Royal Melody in Motion, a beautiful tall elegant bay and white filly by Royal Creation and her new 2006 weanling filly chestnut and white by Colortown. Echo was used as a child's mount in the shows in her younger days!
She is for sale with a free breeding to our Pinto World Champion producer Majestic Miracle if you so choose.
$1000.00
---
The Lord's Treasure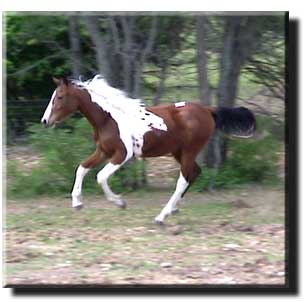 The Lord's Treasure
Alcatraz Island
Creation's Royal Commander
Modern Creation
Commander's Royal Ann
California Dreamer
El Rey Manchado
Royal Chipper's Betty Jo
Night Echo
Paint The Night
Flashy Bourbon Peavine
Mountjoy's Delight
Echo's Claret
Johnny Three
Echo's Echo's Echo
Treasure is a beautiful homozygous 4 year old bay and white mare. She is small for an American Saddlebred, but, would be perfect for a person, or child that wanted a smaller horse with a lot of motion. She has had one fine filly, Color Me Faithful Lord, Color Me Faithful, sired by Colortown. Miss Faith can bee seen on our yearling sales list. We will sell her with an open free breeding to our Pinto World Champion producer, which is also homozygous, Majestic Miracle.
$6500.00