Welcome to Circle C Saddlebreds
In an unbroken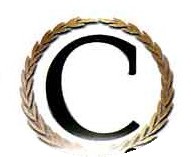 "Circle of Christ"
Many Christian principles from our early years have made our horse farm what it is today.
As a young child, I spent many a summer at my grandparent's farm. I remember the early morning sounds of the cows waiting to be milked, the cackling of the hens in their nests, the calls of the turkeys and that soft sweet breath of the horse next door! I would dream of the day that I would be old enough to have my very own horse. I saw the beauty they possess. The fellowship one could have with them and the constant tugging at my heart to own my own. It seemed I would never be old enough or have a place for one. One day though, I was in my early twenties and the day had finally arrived. The day that I would marvel at. The day I would finally have my very own horse! She, a Morgan cross named Schlandra's Treat, was the most beautiful horse I had ever seen! Somewhat temperamental at times but, non the less, sweet in her own way. We had many years together until she was taken by lightning on a hilltop in Texas. And, so, we learn that with life there is death and the process is repeated many times over. Jesus Christ always tells us that if He brings us to it, He will bring us through it. Tragedies hit all farms and individuals. We are no different here. In November of 1993 I re dedicated my life to the Lord and prayed for Wisdom to know the Truth. I told the Lord to use me. I promised to go wherever He asked me to go. I wanted to do His will not mine. As life would have it, tragedy hit again the next day. My husband lost his life flying our small plane. The Lord was there to comfort. He gave me such wisdom and grace to accept my life and my loss and to grow through it. I was so hungry for the Truth… It was by no mistake that it was at that point in my life that the Lord called my husband home. I continued to pray for wisdom to know His Truth. In early February, I was weary from work and I cried out to the Lord I needed a break from work. I had been self employed for 10 years without a vacation. Lord, I said, I am so tired… He said go home! Go home I asked???… So, I did. I went to Israel and walked the steps of my Lord and Savior, Jesus Christ. The Bible literally came alive. I witnessed such wonders. He was, at that time, preparing me and my life as I live it today.
You, see, I learn from site… the Lord knew this.
I needed the wisdom and the knowledge that could be learned first hand for me to retain all of it. I went with a wonderful group of Christians and spent 18 days in Israel, taking part in the world wide Feast of the Tabernacles. An experience I will never forget.

The Lord knew my passion for the horses and my desire to be used to fulfill His will in my life. He kept showing me many signs… First on a weekend trip in 1996, I went to St. Louis for the weekend, rented a car and ended up in Lexington at the American Saddle bred Museum! I did not know what an American Saddle bred was! I had always wanted to drive a horse and here all of a sudden were some incredible horses… I came back to Texas… ran into a lady that had a stallion… turned out to be a young American Saddle bred stallion. There were not many here in this part of Texas at that time… We became good friends… with her help, and the Lords guidance I found the perfect driving mare. Yes, she is an American Saddle bred. A very fine mare…

Tell A Secret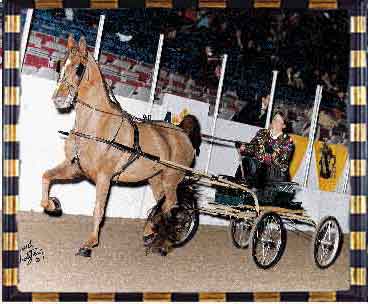 Tell A Secret had her 4 month old filly, Tiger's Lila Secret, at her side. I had not planned on purchasing her, but when I talked to Sherry she said the transport was about to leave and that there was room for her if I wanted her! I could not resist. What a work of Trust was extended to me that day. You see, bought the pair on payments from a lady, Sherry Barrett, who was out of state, that I did not even know! So, on the transport came this little scruffy winter blanketed bundle of joy. Little did I know what was under underneath that blanket of hair! She was nicknamed Miss All American Sweetheart by my trainers, Robert Macomb and his lovely wife Bonnie! Secret's filly became my first Pinto World Champion in 2001 and again in 2002 she won the Pinto World Futurity Championship and Reserve World Championship!
Tigers Lil Secret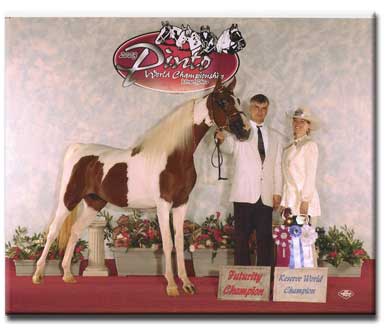 What a joy this mare has been. She now is an accomplished mare. She is a beautiful and talented mare. She has raised 2 beautiful colts, All American Peacekeeper and The Lord's Blessed Star of Wonder. Her colt Star won his Pinto World Champion title in the open division at Pinto World this year! Hopefully he will be invited to attend Equifest in February! Miss Lilly is a talented 5 gaited and a fine harness mare. She never ceases to amaze me with her talents, her grace and her sweetness.!
The Lord has so graciously opened doors to me. He has literally put me on the path to a wonderful mission of Faith, Love and Trust.
Please remember, if there is anything I can tell you, It is not a life without disappointments, hurts and sorrow. He will, I promise you, always be there to comfort you and deliver you from all obstacles.
Jesus has literally put me on the path to a wonderful mission of Faith, Love and Trust.
The Lord is so good to open doors and to give you the desires of your heart. You, need only pray, believe and receive His many gifts.
He has them waiting for YOU too!!!!
I know, as the Lord is my witness,... He will do them for you...
May the Lord richly bless you and your family today and always on your life's pathway.