305 Kb Flash Movie
Pinto World 2002 as a yearling
(Movie Slowly loads each frame until the entire clip is loaded than the movie will start playing normal speed. Load Time is about 1 minute or less for dial up intenet users.)


See his 1000 Kb Foal Movie
INTRODUCING!!!!!!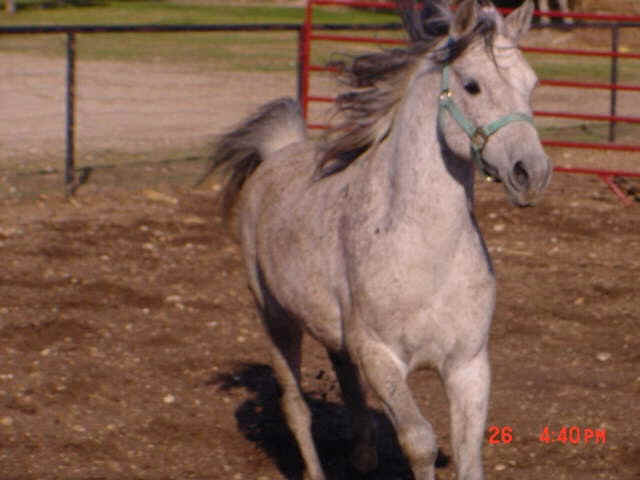 Sunday Sermon
RSD Madrid x Deliverance
Grey Arabian Stallion
We are so proud to have added Sunday to our breeding stallions. He is such a wonderful horse.
He has a pedigree of the most famous Arabians of all times on both his sires side and on his
dam's side.
Sunday was sired by breeding champion RSD Madrid and grand sired by the all time world
famous Khemosabi.
Sunday's dam was sired by the leading producer of champion foals, Tornado and grand sired by
the world champion Bask.
He has breeding and performance champions throughout his lineage!
Sundays pedigree is so impressive. Sunday is conformationally correct in every way.
He is in the Green Country futurity as well as several others across the USA, for a
breeding stallion for 2006. We will be happy to donate him to other futurities as well.
Please just let us know!
ee Sunday Sermon
RSD Madrid
AN Malik
Galero
Ispahan
Kamasi Sabaha
Khemosabi
Gavadraff
Deliverance
Tornado
Bask
Silwara
Layde Fayre
Sunny Acres Aeneas
Star of Egypt
Sunday is for sale for $4500.00
2007 Stud Fees:
Majestic Miracle
$ 250.00 non-refundable booking fee (used towards his breeding fee)
$700.00 ASHA Mares
$500.00 Arabian and All other Mares
Live Pinto foal guarantee.
Sunday Sermon
$250.00 non-refundable booking fee (used towards his breeding fee)
$500.00 Arabian Mares
$300.00 ASHA and All other Mares
Live Foal Guarantee.
Please remember the funds collected from Miracles and Sunday's breedings are used for Missions, to spread the Word of Jesus throughout the world.

We also offer a multi mare discount when breeding multiple mares. Also, discounted breedings are available for people who provide us referrals. If you sell a breeding, you will receive one for free.

Miracle and Sunday are nominated in several futurities. We are glad to nominate them to more. Send us a request list of those you are interested in and I will be happy to add them. We also offer free breedings to those willing to take their foals and use them for the Glory of the Lord. To qualify for this wonderful opportunity, we would need a written paper outlining how you, through the Lord, intend on using the foal and the horse in their lifetime to Bring Glory and Honor to the Lord. It is all about the Lord! God will create just the right foal for you! So, listen to your heart, pray about this ministry. The Lord will do the rest. All of the foals have a profound message to share with others.... Some of the most incredible Truths from the Lord have come through the foals themselves. One just needs to Pray, Believe and Receive His many blessings He has for us all! The Lord tells us we are all special in His eyes. We are all born into this world imperfect and with the Lord we are made whole!

Please see our NEWS and MIRACLES page about our Mission Minded Stallions and the foals and the blessings they have brought to our Lord's Light of Faith Ministry.

All breeding fees are donated to missions.
e-mail or call for details 817-706-6063